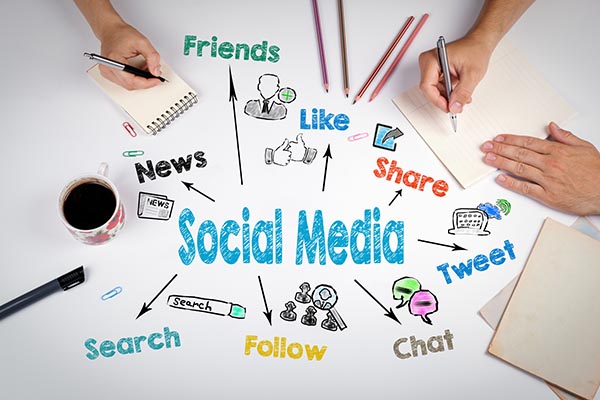 Video Marketing and Other Social Media Trends
Shhh…we have a secret for you…so, it seems this social media thing is here to stay and it's kind of a big deal in marketing!
Ok, we know that wasn't a surprise! You obviously know that social media marketing is a powerful tool for expanding your reach and attracting new patients.  But let's review a few of the benefits of a strong social media strategy:
Growing a bigger audience.
Increasing brand awareness.
Connecting with your patients better.
Increase traffic to your website.
Promote more services which means more profit.
It can be difficult to always come up with new and engaging ideas though. If your posts aren't getting as much attention as you'd like, you're probably feeling frustrated. It's normal to encounter some slumps and roadblocks. When that happens, you just need a little boost! Some fresh air. Some new life.
Here's three simple strategies to make your social media marketing bloom this spring!
1. Run a Contest
 One of the biggest social media trends is contests and it's easy to understand why. Because who doesn't love FREE? Everyone loves a chance to win a prize!
Holding a contest on your social media accounts is a great way to amplify your practice and its services. Here's how to launch an effective social media contest:
Set Goals:

Prioritize what you want to get out of this campaign. Some potential benefits you can reap from a contest include boosting engagement, increasing your followers, and growing your email subscribers. Decide on one or two goals you really want and design your contest in a way that helps you reach them.
Determine the Budget: Set your budget based on the prize, promotion expenses, paid services, and potential ROI.

Choose the Prize(s):

The reward must be exciting enough to get people on board with what your brand has to offer. Potential prizes may include a discounted service, free consultation, gift card, or free product related to your practice.
Decide Social Networks: Sometimes, it is beneficial and easier to limit your contest to one network, such as Instagram, if you really want to drive traffic to one particular platform. However, there's no rule saying you need to stick with only one.

Determine Entry Requirements:

Common ways to enter social media contests include following an account, tagging a friend in the comments, or sharing the post.

Know the Rules:

Of course, your contest should meet all legal requirements. But keep in mind that each social network has specific rules regarding running and promoting contests. Adhere to these guidelines so you don't get penalized.
Make sure your contest targets prospective patients and that you engage with people who enter to maximize the benefits!
2. Post Authentic Videos and Photos
In order to earn the trust of prospective patients and obtain loyalty from current ones, your practice should be as authentic as possible on social media.
One effective method for showcasing your realness is via video marketing. Video marketing is a worthy pursuit regardless. They are engaging pieces of content that people want to interact with. But adding an extra touch of authenticity will take it to the next level. Here are some ideas:
Behind the Scenes:

Give people a glimpse into the daily lives of your practice through BTS videos and live streams.

Service Demonstrations:

Don't just tell people about your services – show them in action! Show how the professionals in your practice are actively improving the lives of your patients.

Patient Testimonials:

Written reviews are great, but filmed testimonials from real-life patients are even better. Select some outgoing and articulate patients and ask them some questions, such as, "What are your thoughts about our practice?" and "What do you want to tell other people about us?"
When people get to see the faces and personalities of your practice, they'll feel a personal connection. Developing and maintaining this sense of connection is vital to growing a thriving social media presence.
3. Get Involved In Cause Marketing
In today's world, many people want to support businesses that are involved with good causes. Cause marketing is a way to appeal to these individuals while making the world around you better too.
This form of marketing involves your practice collaborating with a non-profit organization and/or advocating for a certain charitable issue. Here's how you can take part in a meaningful campaign or partnership:
Choose a Relevant or Personal Cause:

This effort is most likely to succeed if it is something you and/or your staff believes in.
Don't Make It All About the Money: It may look good to patients if you showcase how much money you give to a non-profit, but cause marketing shouldn't just be about bragging about donations. Your effort should also involve raising awareness about the issue with interesting content.

Collaborate With the Organization:

While you can assume a charity is thankful for exposure and funds in any capacity, you should go the extra mile. Work with the non-profit to determine what will be the most beneficial strategy. If you have a strong partnership, the campaign will be even more successful.
You may also want to pursue corporate giving and social responsibility. Corporate giving often involves tax-deductible donations with social responsibility which improves your public relations overall.
Final Thoughts
Marketing via your social media channels can be difficult at times. But you can't deny the benefits! If you don't make it a priority to jumpstart your social media marketing, you'll miss out on patients, online visibility, and leads. Use these tips to improve your social media strategy until you're getting the engagement you need.
Already part of the Affordable Image family but need help developing a blooming social media plan? Would you love to add video marketing to your strategy? Looking to 'be the change' with a cause marketing plan? We can do that!
Give us a call at (800) 639-1622 and we'll get started on helping your practice bloom before you can say "SOCIAL SPRING"